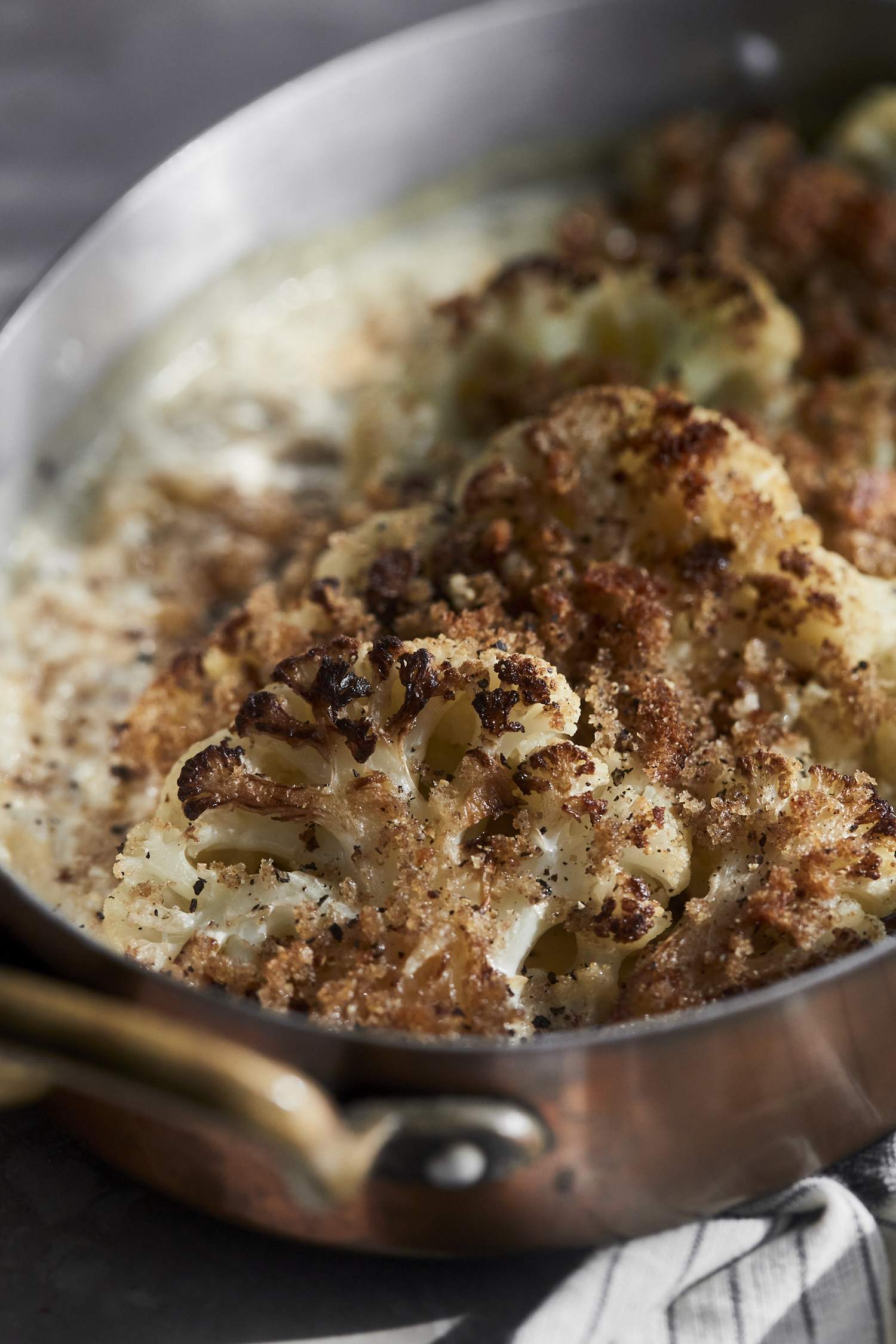 I am a lover of vegetables cooked in cream. The Cauliflower recipe thickens perfectly while the vegetables become quite tender. Add a few favorite flavors and the end result is my idea of a perfect side dish.
LARDER: Rye Breadcrumbs
This simple topping can be made with any type of bread, but the rye flavor is delightful. For dishes beyond this cauliflower recipe, place the breadcrumbs on a baking sheet and bake until golden brown and crisp, 15-20 minutes. Use the breadcrumbs sprinkled on soup, tossed into salads, or mixed in with roasted vegetables for a bit of texture.
MAKE IT VEGAN
Use about ½ cup of soy milk with 2 teaspoons cornstarch and 2 teaspoons nutritional yeast in place of the heavy cream. While the soy milk cooks, the cornstarch will thicken it, and the nutritional yeast will add rich flavor.
CAULIFLOWER ALTERNATIVES
This simple dish can be made with shaved fennel, broccoli, cabbage, or squash wedges.
FLAVOR ADDITIONS
Occasionally I like to add a bit of ground chile or chile paste. You can also add any herbs you like. If you have any leftover dill from the Parsnip Gnocchi on page x, this is a great way to use it up!
Cauliflower with Cream and Breadcrumbs
Author:
Yield: 2 servings 1x
Ingredients
CAULIFLOWER
1 tablespoon (12g) olive oil
4, 1"-inch-thick cauliflower wedges (180g)
1 small garlic clove (2g), minced
1 tablespoon (14g) preserved lemon, minced
½ teaspoon kosher salt
½ cup (110g) heavy cream
Black pepper for serving
RYE BREADCRUMBS
1 piece of bread (100g)
1 tablespoon (12g) olive oil
¼ teaspoon kosher salt
¼ teaspoon black pepper
Instructions
To start the cauliflower: Preheat the oven to 425˚F. Heat the olive oil in a large skillet over medium-high heat. Add the cauliflower wedges. Sear until browned, about 2-3 minutes, flip, and repeat.
To make the breadcrumbs: Tear the bread into pieces and place in a food processor. Drizzle with the olive oil. Add the salt and black pepper, then pulse until breadcrumbs form.
To cook the cauliflower: Transfer the cauliflower to a small baking dish, slightly overlapping the thicker sides of the wedges. Sprinkle the garlic, preserved lemon, and salt over top. Drizzle with the heavy cream, then top with the breadcrumbs.
To serve: Bake for about 25 minutes, until the cream bubbles and the breadcrumbs are toasted. Finish with a bit of black pepper before serving.
Notes
This recipe first appeared in issue 8 of Casual and used rye bread (which is equally as good)!
#Cauliflower #Cream #Breadcrumbs